The four men who comprised the fourth medical graduating class at McGill College in 1836, were an interesting group.
William Fraser

(1814-1872) was a Scot who, after receiving an 1836 Lower Canada medical licence and being in general practice, was appointed McGill's Professor of the Institutes of Medicine from 1849 until his death (being succeeded, in 1874, by William Osler) (1).

Louis-Honoré Gauvreau (1812-1858) was born in Rivière-du-Loup, the son of a Quebec merchant, and first studied at the Séminaire de Nicolet. He also received his Lower Canada licence in 1836 and set up practice in his home town. Gauvreau supported the Patriote cause during the Lower Canada Rebellion of 1837–1838. Afterwards, as part of the Montreal-based Association de la Délivrance, he helped collect funds so that those who had been exiled for their part in the uprising could return home. In 1858, he was elected to the Legislative Assembly of the Province of Canada for Maskinongé but died later that year (2).

William Sutherland (1815-1875) also received a Lower Canada licence in 1836, was a founder of McGill's rather short-lived rival, the Ecole de médecine et de chirurgie de Montréal, editor of the influential Montreal Medical Gazette, and, from 1849 to 1867, the McGill Faculty of Medicine's Professor of Chemistry (3, 4).

Robert Todd Reynolds (who was born in Amherstburg, Upper Canada, on February 21, 1812) had a strong McGill connection - his mother, Thérèse (also known as Theresa) Bouchette Desrivières (also spelled Des Rivières), was the widow of Thomas-Hippolyte Trottier Desrivières, stepson of James McGill, the founder of McGill University. (Desrivières had been killed in a duel in Jamaica in 1801; his opponent was, shortly afterwards, killed in another duel by Desrivières' colleague Charles-Michel de Salaberry (4, 5).
Prior to the American Revolution, the Reynolds family had been prominent citizens of Detroit. Thomas Reynolds (Robert Todd's grandfather) had joined the British Army there in 1760 and was Commissary at Fort Detroit in 1780 when he purchased a home inside the fort (6). In 1796, when Britain ceded Detroit to the Americans following the Jay Treaty of 1794, which determined that section of the Canada – U.S. border, the Reynolds family moved across the river to Amherstburg, where Thomas became the Commissary of the new fort there—Fort Malden (7). After Thomas's death in 1810, his son Robert (Robert Todd's father) succeeded to the post of Commissary General at Fort Malden. In autumn 1813, just ahead of the American invaders, Britain evacuated Fort Malden to Burlington, and Amherstburg was occupied. The Reynolds family did not return until 1815. The Reynolds family was clearly drawn to the military life—Thomas's brother (Robert Todd's uncle) Ebenezer Reynolds (who was married to the sister of Thérèse Bouchette, Robert Todd's mother), commanded the Essex Militia during the American attack at Frenchtown on the River Raisin on January 18, 1813.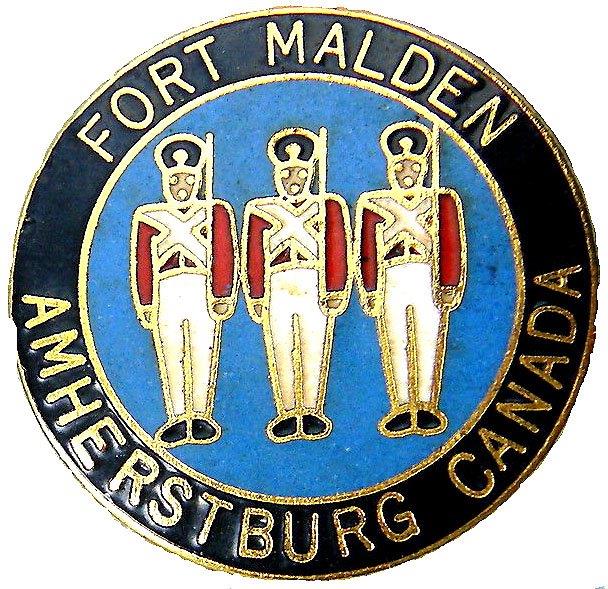 In addition to (or perhaps due to) their military connections, the Reynolds became an important family in their new Canadian home. Immediately after the American army officially withdrew from Fort Malden on July 1, 1815, following the end of the War of 1812 and the ratification of the Treaty of Ghent, Robert and Thérèse Reynolds (Robert Todd's parents) built a fine new house, Belle Vue (or Bellevue), adjacent to Fort Malden. (It has been suggested that at least some of the funds to build Belle Vue came from the estate of James McGill.)
After graduating from McGill in 1836, his graduation thesis was on enteritis, Robert Todd Reynolds returned to Fort Malden, and was licenced to practice in Upper Canada on July 4, 1836. He may have resided at Belle Vue, the family home, where his father, Robert, and aunt, Catherine Reynolds, the famous Canadian artist and "gentle spinster" (8, 9, 10), were still living; Robert Todd eventually inherited the house, which he sold after 1865; it is currently a National Historic Site of Canada.
In 1836, the political situation in both Upper and Lower Canada was tense, and Reynolds probably joined his uncle Ebenezer's former regiment, the Essex Militia; he was certainly present when a group of Detroit-based Patriots attacked Amherstburg and Fort Malden in early January 1838, and this involved him in an unusual sequence of events. The attack lasted for several days, ending on January 9th, when the Patriots' ship, the Anne, and their leader, "Brigadier-General" Edward Alexander Theller, were captured. Theller (4, 11, 12) was an Irishman who had lived for a time in Montreal and trained as a doctor with the (unregistered) physician and newspaper editor Daniel Tracey (13). Unable to obtain a medical licence in Lower Canada or in Vermont, Theller eventually settled in Detroit, where he practiced medicine and operated a grocery store and a pharmacy. According to the Dictionary of Canadian Biography, his "eloquence and easy charm won him influence among the 'lower class of voters' and minor public office" (12).
After the capture of the Anne and her crew, Theller was taken to Toronto, where in April 1838 he was tried for treason and sentenced to be transported to New South Wales. However, he and four other Patriots escaped, though he was a "short stout man" and "had difficulty in getting through the window" (ibid.); he managed to return to Detroit, where he was charged with (and acquitted of) violating American neutrality laws. In May 1839, while on bail, Theller ran into Robert Todd Reynolds who was visiting Detroit; newspapers reported that "Dr. Theller of 'Patriot' notoriety recently gave Dr. Reynolds of the British army at Malden a drubbing in Detroit. Theller says he was merely paying off some old scores touching on his treatment by Reynolds when captured in the schooner Ann [sic]" (14,). At his assault trial in June 1839, Theller stated that Dr. Reynolds had been present when he was captured, and that his watch and some money (with a value of $85) had been taken from him. Reynolds countered that these had been taken according to the practices of war and at the order of his commanding officer, but Theller was acquitted and awarded $85 plus costs. It is not known whether he ever received the judgement. (15)
Not much more is known of Reynolds except that he practiced medicine in Amherstburg and Berlin (now Kitchener) until 1891. He was married twice, first to Eliza Mcintosh, and later to Elizabeth "Lizzie" Byrne, and had four children: Robert Albert, Theresa, Annie Laura, and Sherman (16). Like his father before him, Robert Todd Reynolds was active in community affairs; he was one of the earliest District Superintendents of Common Schools (for the Western District), when the Common Schools System was organized in the 1840s (17), and, in 1847, he was appointed surgeon of the 4th battalion of the Essex Militia.
After he retired from active practice in 1891, Reynolds moved to Chicago to live with his daughter Annie Laura and her husband, the pioneering motoring journalist Robert Miller Jaffray . He died there on February 25, 1897 (aged 85) and is buried in Mount Hope Cemetery, Kitchener. At the time of his death, he was McGill's oldest medical graduate. (18) (19) (20)
During this research on Robert Todd Reynolds, which was part of a broader study of early McGill medical graduates (21), a brief note in the Osler Library archives catalogue at McGill University led to an exciting (re)discovery. The very brief description of the small Reynolds archive fonds has a contents note " 4 of R. T. Reynolds' Diplomas, one from McGill." The "one from McGill" turned out to be a photostat copy of Robert Todd Reynolds 1836 McGill MD degree certificate, signed by Principal John Bethune and Professors Robertson, Stephenson and Holmes. This is by far the earliest McGill degree 'parchment' that is known to exist — the next earliest is the 1848 degree of Palmer Howard. The copy in the Reynolds fonds had been donated and is actually a copy of another (1955) copy that is in the Burton Historical Collection of the Detroit Public Library. Reynolds' original degree certificate is in the collection of the museum of the Fort Malden National Historic Site. Unlike the draft 1833 degree certificate of William Leslie Logie (McGill's first medical graduate) which is perhaps more an acknowledgement or internal university correspondence than a certificate and the 'letters' concerning the 1834 and 1835 graduates that are reproduced in the Osler Library Newsletter (22) and Hanaway and Cruess (1), the Reynolds' 'parchment' looks much more like a current degree certificate.
REFERENCES:
1. Hanaway, J. and Cruess, R. McGill Medicine: v.1. The first half century, 1829-1885. Montreal: McGill - Queen's University Press, 1996. pp. 156–157.
2. Audet, Francis-J. Le comté de Maskinongé (1853-1867): notes historiques, statistiques et biographiques. Trois-Rivières: Editions du Bien public, 1934. (Pages trifluviennes. Série A; no 16). pp. 32–36. (Digitized at Our Roots / Nos racines www.ourroots.ca .)
3. Hanaway, J and Cruess, R. McGill Medicine: v.1. The first half century, 1829-1885. Montreal: McGill - Queen's University Press, 1996. pp. 157–159.
4. Mentioned in other people's entries in the Dictionary of Canadian Biography (online). University of Toronto / Université Laval / Library and Archives Canada. www.biographi.ca
5. Brierley, Jane. Memoirs / by Philippe A. De Gaspé, author of Les Anciens Canadiens; an English translation of the first edition of the Mémoires. (1866) of Philippe-Joseph Aubert de Gaspé with biographical and historical annotations. [M. A. Thesis], McGill University, 1982. pp. 458–459. http://digitool.Library.McGill.CA:80/R/-?func=dbin-jump-full&object_id=57417&silo_library=GEN01 Accessed April 4, 2016
6. Pioneer and Historical Society of the State of Michigan. Michigan Historical Collections. 1885; vol. 8. pp. 470–471.
7. Botsford, David P. At the End of the Trail : a Collection of Anecdotal Histories Relating to the District Surrounding the Canadian end of the Great Sauk Trail in Anderdon, Amherstburg and Malden, Essex County, Ontario. [Amherstburg, ON]: [D. P. Botsford], 1985. http://marshcollection.org/online-publications/at-the-end-of-the-trail/ Accessed April 4, 2016.
8. Robinson, Francis W. Early houses on the Detroit River and Lake Erie in watercolours by Catherine Reynolds. Bulletin of the Detroit Institute of Art, 1953/4; vol. 33:1. pp. 17–20.
9. Anonymous. Catherine Reynolds. Windsor Community Museum News. 2015; Summer. p. 2.
10. Canadian Women Artists History Initiative. Artist database: Reynolds, Catherine. http://cwahi.concordia.ca/sources/artists/displayArtist.php?ID_artist=76 Accessed April 4, 2016.
11. Burton, Clarence Monroe; Stocking, William and Miller, Gordon K. The City of Detroit, Michigan, 1701–1922. Detroit: Clarke Pub. Co., 1922.
12. Read, Colin Frederick. Theller, Edward Alexander, in Dictionary of Canadian Biography, vol. 8. University of Toronto/Université Laval, 2003–, http://www.biographi.ca/en/bio/theller_edward_alexander_8E.html . Accessed February 5, 2016.
13. Galarneau, France. Tracey, Daniel, in Dictionary of Canadian Biography, vol. 6. University of Toronto/Université Laval, 2003–
14. The Sun (Baltimore, Maryland). 1839; Saturday, May 11. p. 2.
Bangor Daily Whig and Courier (Bangor, Maine). 1839; Monday, May 13. p. 2. (These two reports are similar but not identical.)

15. Evening Post (New York). 1839; Friday, June 21. p. 2.
16. Biographical information assembled from a variety of online sources, including http://generations.regionofwaterloo.ca ; familysearch.org ; ancestry.com, ancestry.ca, ancestry.co.uk
17. Scobie's and Balfour's Canadian almanac, and repository of useful knowledge. Toronto: Scobie and Balfour, 1847.
18. Obituary: Montreal Medical Journal. 1897, April; vol. 25:10. pp. 847–848.
19. Obituary: Canadian Practitioner. 1897, March; vol. 22:3. p. 233.
20. Obituary: Amherstburg Echo. 1897; Wednesday, May 5.
21. Crawford, David S. McGill University Medical Faculty MD and MDCM graduates and their theses 1833–1877. http://internatlibs.mcgill.ca/McGill-medical-theses/mcgill-theses.html Accessed April 4, 2016.
22. Crawford, David S. Montreal, medicine and William Leslie Logie. Osler Library Newsletter . 2008, May; no. 109. pp. 1–7 . Accessed April 3, 2016.
Thanks to John MacLeod of Parks Canada for his help in retrieving the original degree certificate and, as usual, to Deanna Cowan for her editing vigilance and for putting my original draft into better order. Thanks also to Dr Donald Brearley of Belleville for his genealogical help.
A slightly edited version of this webpage was published in the .Osler Library Newsletter in 2017.
Written in 2016 and published on this website in July 2017.